Check our top 10 best inflatable kayaks to buy 2020 to help you maximise your fun on the water. Inflatable kayaks are making your life easier because of their folded size therefore making them easy to transport. And they are very easy to setup too! With their very simple and fast setup, inflatable kayaks open the water sport experience to pretty much anyone. But there are lots inflatable kayaks available at different prices, with different specs! This is why we decided to put together this top 10 inflatable kayaks to buy 2020.
From cheap entry level inflatable kayaks like the Intex Explorer K2 to the higher end Advanced Elements, there is plenty of choice. Just pick and choose the most suitable kayak for your need and your wallet.
Quick list: the top 10 best inflatable kayaks
---
Best 2 person inflatable kayaks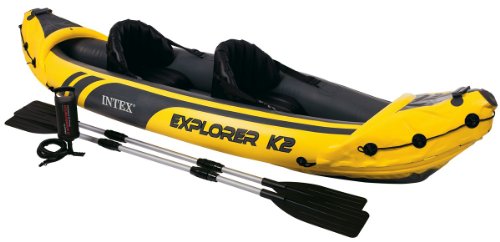 The Intex Explorer K2 is one of the best inflatable kayaks available in the low price range. It is by far our best selling inflatable kayak. It's decently priced, versatile and the perfect kayak to start with leisure kayaking. It is sporty and fun with a streamlined design for easy paddling. Great for experiencing lakes and mild rivers. It is perfect for two adults.
Lightweight and compact, this kayak is a snap to assemble, and allows you to take the fun of kayaking wherever you go. It is made of rugged vinyl and inflatable I-beam floor for comfort and rigidity. A removable skeg provides directional stability, while two adjustable, inflatable seats with backrests are included for comfort. A grab line and grab handle at each end is provided for your convenience. And so is a repair patch kit. The Explorer K2 Kayak provides added accessories including: two 86in aluminum oars and an Intex high-output pump for quick and easy inflation and deflation.
---
---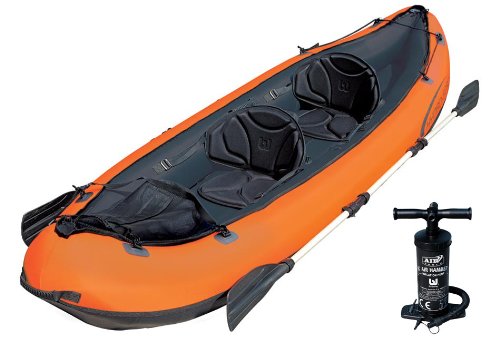 The 2 Person Hydro-Force Ventura inflatable kayak has been designed with individuals and families in mind who want to get out and enjoy the water without the space problems of a conventional kayak. It is great for families and individuals looking to start kayaking. Whether fishing on a lake, paddling down the local river, even exploring the sea coastline (in the right conditions), you can take this recreational kayak almost anywhere.
At 3.3 metres long, the Ventura inflatable kayak comfortably fits two adult. It has adjustable seats and specially designed back rests. It has added room and storage compartments in front and behind the seats, allowing you to carry extra supplies in the removable storage bag that is included. Hydro-Force design team has given extra attention to maximising stability, portability, comfort and durability.  The Ventura is just under 1m wide which is great for stability. Handy for people just starting on the water and for added steadiness whilst fishing. The front end shape of the kayak has been designed to limit the amount of spray that comes over the side into the kayak. The drain valve and plugs make it easy to get rid of any water that does make it in.
---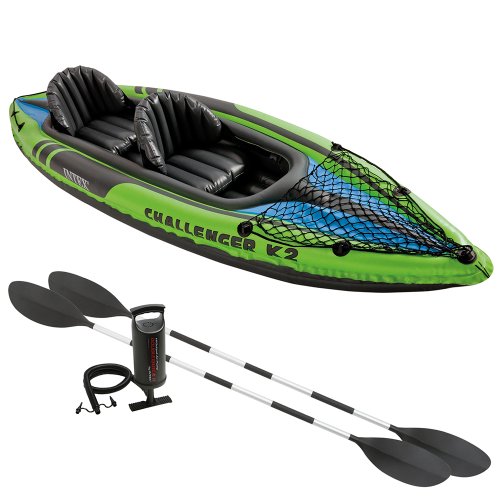 Globally speaking, the Challenger K2 is a really great kayak. It's ideal for beginners and perfectly suited for slow moving rivers or lakes. For the keen kayaker, this is probably not the most suitable kayak. For a beginner however, it would be difficult to find a better suited kayak in a similar price range. Setting you back usually around £90, you really can't argue with the Challenger K2's value.
---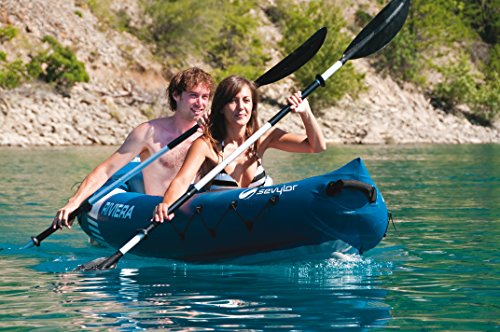 The Sevylor Riviera is an inflatable kayak designed for kayaking on lakes or calm rivers.  It can be used occasionally at the seaside, if it is calm. The Riviera is ideal for discovering the joy of kayaking and is suitable for 2 persons, up to 150 Kg. It provides the feel and glide of a rigid kayak but with the convenience of an inflatable boat. Padded seat and back rest offer added comfort so you can enjoy paddling longer. It was designed to be as light as possible to carry, as fast as possible to set up, as strong as possible for your safety and most importantly as fun as possible for you to enjoy.
The heavy duty PVC body of this kayak is ideal for anybody after a strong kayak. The supplied paddle means the kayak is ready to go, however it doesn't come with a skeg which you have to buy separately. Many reviewers recommend to buy the skeg as the Riviera is quite tricky to steer without it.
---
Best  1 person inflatable kayaks
Best 3 person inflatable kayaks
Best high-end inflatable kayaks
---
Top 10 best inflatable kayaks to buy
---
---
Top 10 best inflatable kayaks
Please check above our selection of the top 10 best inflatable kayaks to buy in 2020.
This top 10 is based on the best reviews and the best ratings of inflatable kayaks on Amazon. You can also have a look at the best selling inflatable kayaks on Amazon here if you wish to.
Intex, Sevylor and Bestway are amongst the best selling brand of inflatable kayaks on the market and we have them all.
If you are after an inflatable boat instead of a kayak, have a look at our selection of inflatable dinghies.
You could also have a look at inflatable canoes – like this Sevylor inflatable canoe – which are another option to have fun on the water. The main differences on an inflatable canoe are the seating position (either kneeling or higher on seats) and the paddles used. With inflatable canoes, you use single ended paddles as opposed to double ended paddles.
---
---
Last updated on April 14th, 2020