Best inflatable SUP boards
If you are looking for  cheap paddle boards check our best budget inflatable SUP boards page, this is page is geared towards mid-range to high end iSups.
Top 10 best inflatable SUP boards
---
Solid SUP vs iSUP
If you are currently looking at Stand Up Paddle (SUP) boards to have some fun in the water, then you should consider inflatable SUP boards (or iSUPs). Inflatable paddle boards have the massive advantage of being inflatable which means they take next to no room to transport and store (when deflated) compared to their solid body counterparts. And unless you're a professional paddle boarder, you wouldn't notice the benefits of solid boards, however you would notice the price difference! Solid boards are also more prone to dents and scratches which demands for more maintenance and repairs.
Which iSUP to choose
With paddle boarding becoming more and more mainstream, there is a wide array of inflatable SUP board brands. This gives you a plethora of boards to choose from with various sizes and options. Hopefully this article will help you find the best inflatable SUP boards to suit your needs. If you don't really know what usage you'll make of your board, you can get a beginner all-round which should get you going and allow you to learn how to SUP and have quality fun times on the water.
With more knowledge and experience you can refine your selection and then decide exactly what you need your iSUP for. It could be a touring stand up paddle, surfing, racing, multi-person iSUP, yoga, white water, or even windsup. A Windsup is a SUP board setup with fixings allowing you to attach a surfing sail to your board. So the choice is vast. If you're not sure yet, or don't have a specific type in mind, then go for an all-round iSUP. They are the most common and the most available ones around.
Inflatable stand up paddle boards have become very popular in the last few years as more paddling enthusiasts realise how convenient and truly awesome they are. Paddle boarding is a great workout, tons of fun, can be done with family and friends, and is a great way to enjoy the outdoor in a different way. Hope you get to find the best inflatable SUP board for you.
The best inflatable SUP board BRANDS
---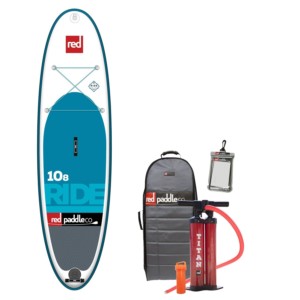 Red Paddle Co really are at the top of their game when it comes to inflatable SUP boards. This is not a surprise to see Red Paddle SUP boards for hire at many locations across the country. With Red Paddle Co iSUPs, quality always comes as standard. They've been producing the best inflatable SUP boards since 2008 and are now using their own patented RSS stiffening system delivering unrivalled stiffness.
>> Check the latest prices on Amazon <<<
---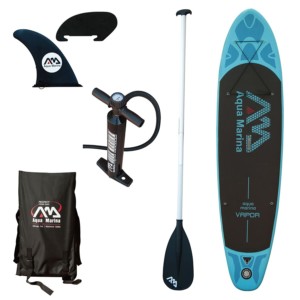 Aquamarina produces a good range of inflatable stand up paddle boards. The BREEZE (around £270), MONSTER (around £430) and VAPOR (around £340) iSUPs get a decent amount of good reviews. You can usually grab one of them new for at around half the cost of a Red Paddle Co board of the same type, if not more. So if you don't have the budget for a Red Paddle Co, an Aquamarina could be a good option to get you started. Alternatively, check our cheap iSUPs page.
>>> Check the latest prices on Amazon <<<
---
Hydro Force inflatable SUP boards are owned by Bestway. Bestway is a very well known brand in the world of mainstream inflatable water related products. They produce inflatable swimming pools, inflatable hot tubs (Lay-Z-Spa) and inflatable stand up paddle boards. Their iSUP boards are lightweight, quick to inflate, easy to carry, store and transport. The Hyrdro Force boards are in the low to mid range price.You can bag an iSUP from Hydro Force from around £200 up to £500 depending on the model.
>>> Check the latest prices on Amazon <<<
---
Starboard is another high end inflatable SUP boards manufacturer with the like of Red Paddle Co. Starboard have a huge choice of inflatable SUP boards from the all-rounder to more specific Yoga paddleboards, surf paddleboards, multi user, touring boards, river SUP boards, kids boards and even foil paddle boards. Their range is HUGE! Starboard iSUPs are you usually fetching somewhere between £800 and £1,500 depending on the board type and the size.
>>> Check the latest prices on Amazon <<<
---
The best multi user iSUPs
---
If you are after a multi person inflatable stand up paddle board to have fun with your friends or family, or to partake in competitions like CrossFit where they are sometime used, then this multi person iSUp is the one just for you.
RedPaddleCo have 2 different multi-person iSUP boards. They are the L Ride and the XL Ride.
>>> Check the latest prices on Amazon <<<
---
---
Last updated on February 24th, 2021