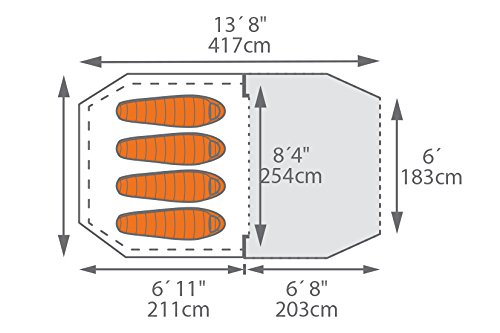 The Kelty Mach 4 Air-Pitch Inflatable Tent is an interesting inflatable tent that works surprisingly well. Compared to traditional pole tents, having fewer pieces to lose or break makes sense. However don't expect to save on weight or bulk for this one – the Kelty Mach 4 (and most inflatable tents for that matter) are aimed at the car camper crowd. It offers plenty of room for four with a large vestibule for additional cover and storage. Weighing just over 9kg in total, the Kelty Mach 4 offers 4.67 m2 of floor area plus and 4.69 m2 in the vestibule.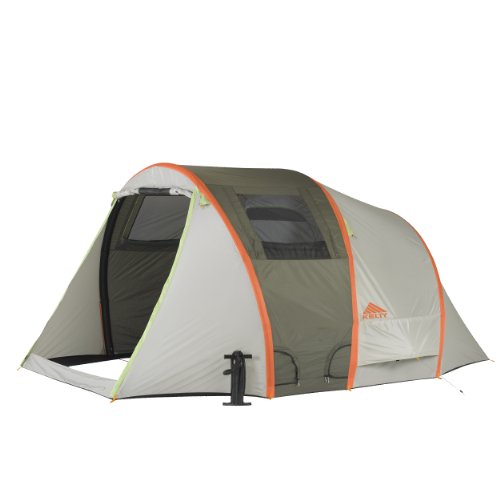 Aimed at three-season campers, the Mach 4 is a great inflatable tent that performs well. It inflates really quickly, with Kelty stating an amazing 1 minute setup time.. The tent has 2 separate inlets. Make sure to inflate both fully, for a sound and solid structure. Deflation is really easy too. Taking the tent down is easy and fast. Please note the Mach4 must be staked down before inflation.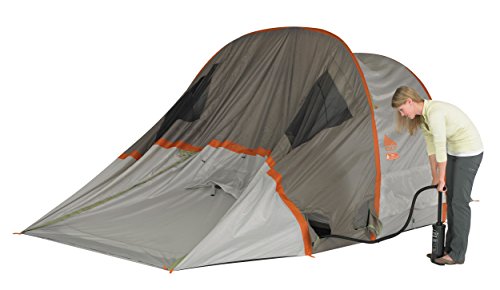 For bad weather conditions, Kelty helpfully included a UV-resistant rainfly with nicely taped seams. It's well integrated, so you don't need to carry a separate piece! The Mach 4 also has extra premium features, like the noiseless zippers. These should be fitted on every tents! Perfect for an impromptu nature call in the middle of the night! Internal storage pockets keep items out of the way, and there is sufficient amount of ventilation. It is recommended to get the optional footprint for the vestibule if you want to use it as a living space, not so important for bike storage for instance.
Comfortable for four, the Mach 4 has a roomy interior and is very simple to setup. For even more room, the Kelty Mach 4 is available in a six-person model as well (Kelty Mach 6).
The Kelty Mach 4 is fairly expensive but we've also found their pricing reasonable compared to similar products, like the Gelert Omega 4 for instance.
We love Kelty's tents, like the inexpensive and lovely Salida and the Hula House 6 from a few years ago, which offers plenty of space.
Last updated on April 20th, 2015