Best inflatable SUP boards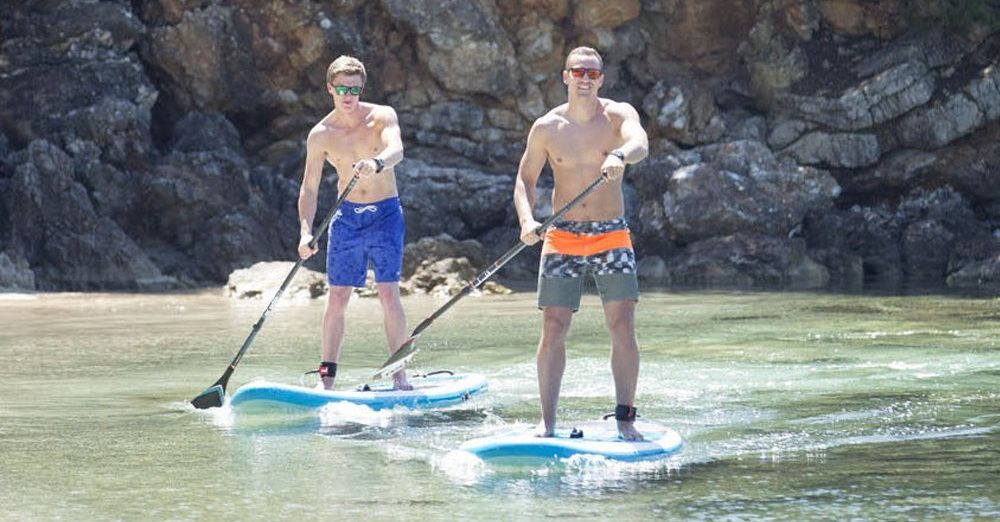 Top 10 best inflatable SUP boards
---
If you are currently looking at Stand Up Paddle (SUP) boards to have some fun in the water, then you should consider inflatable SUP boards (or iSUPs). If you have already started to look around, you are now probably aware that there are a plethora of iSUPs currently available on the market. This article helps you find the best inflatable stand up paddle boards currently available.
If you don't know yet, one a first thing to decide is what type of iSUP you need. You can get a beginner all-round which should get you going and learn how to SUP.
With more knowledge and experience you can then decide exactly what you need a iSUP for. It could be a touring stand up paddle, surfing, racing, multi-person iSUP, yoga, white water, or even windsup. A Windsup is a sup board setup with fixings allowing you to attach a surfing sail to your board. So the choice is vast. If you're not sure yet, or don't have a specific type in mind, then go for an all-round iSUP.
Inflatable stand up paddle boards have become more mainstream and popular in the last few of years as more paddling enthusiasts realise how convenient and truly awesome they are.
The best inflatable SUP board brands
---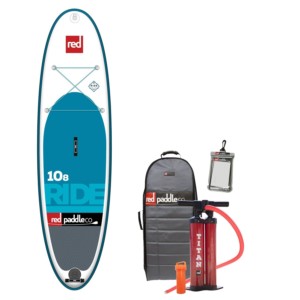 Red Paddle Co really are at the top of their game when it comes to inflatable SUP boards. This is not a surprise to see Red Paddle SUP boards for hire at many locations across the country. With Red Paddle Co iSUPs, quality always comes as standard. They've been producing the best inflatable SUP boards since 2008 and are now using their own patented RSS stiffening system delivering unrivalled stiffness.
>> Check the latest prices on Amazon <<<
---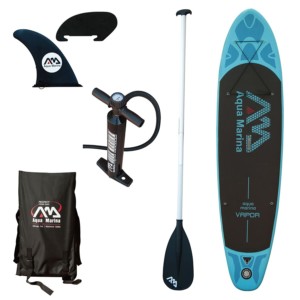 Aquamarina produces a good range of inflatable stand up paddle boards. The BREEZE (around £270), MONSTER (around £430) and VAPOR (around £340) iSUPs get a decent amount of good reviews. You can usually grab one of them new for at around half the cost of a Red Paddle Co board of the same type, if not more. So if you don't have the budget for a Red Paddle Co, an Aquamarina could be a good option to get you started.
>>> Check the latest prices on Amazon <<<
---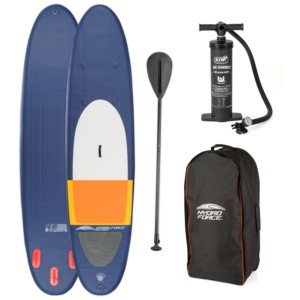 Bestway is a very well known brand in the world of mainstream water products. They produce inflatable swimming pools, inflatable hot tubs (Lay-Z-Spa) and inflatable stand up paddle boards. Their iSUP boards are lightweight, quick to inflate, easy to carry, store and transport. The Bestway boards are in the low to mid range price.You can bag an iSUP from Bestway from around £200 up to £500 depending on the model.
>>> Check the latest prices on Amazon <<<
---
The best inflatable SUP boards
---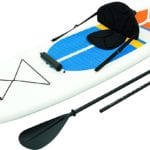 The Hydro-Force is an all-round SUP board with kayak settings (detachable padded seat) which costs around £200 and gets good reviews. Its well thought out shape and design means it is great for beginners and advanced alike. Its medium length and narrow tail makes this paddle board easily manoeuvrable whilst its large width keeps you super stable and makes paddling extremely easy. The Hydro-Force is currently the best selling inflatable SUP board on Amazon UK.
>>> Check the latest prices on Amazon <<<
---
iRocker is up there in the industry for producing quality SUP boards.  They use high quality military grade PVC in their inflatable paddle boards. With thicker than average SUP boards, the iRocker boards are more stable than the common SUP boards on the market. Increased thickness equals increased stability and buoyancy for the rider. The non slip EVA diamond groove deck traction pad keeps you on your feet and in position while riding. The iRocker inflatable SUP board 304cm usually goes for about £450.
>>> Check the latest prices on Amazon <<<
---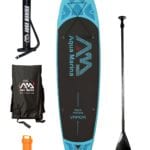 In a price range medium to high (around £650), the Aquamarina VAPOR is a thin (4 in) but long (330 cm) stand up paddle board. The VAPOR is another SUP board that gets great reviews and feedback. It is a perfect all-round board, very versatile. It is an ideal choice for all skill levels from beginners to more experienced SUP riders for flat water and waves.
>>> Check the latest prices on Amazon <<<
---
The best multi user iSUPs
---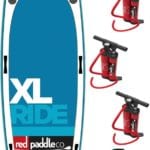 If you are after a multi person inflatable stand up paddle board to have fun with your friends or family, or to partake in competitions like CrossFit where they are sometime used, then this multi person iSUp is the one just for you.
RedPaddleCo have 2 different multi-person iSUP boards. They are the L Ride and the XL Ride.
>>> Check the latest prices on Amazon <<<
---
---